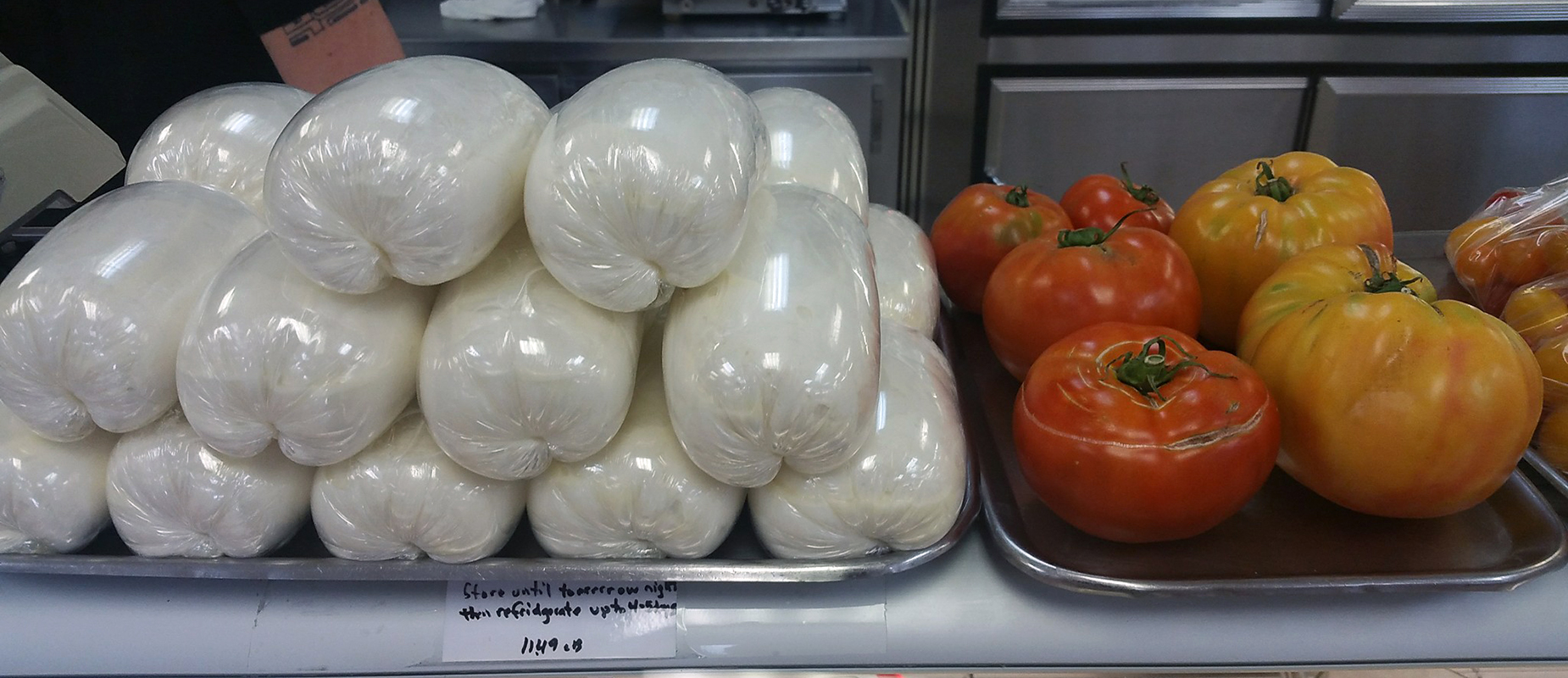 Only Top Quality Products Served Here
We take pride in our food, and will only serve the BEST PRODUCTS to our customers.
Fresh mozzarella
Made fresh daily on the premises by me, Michael (Belgioioso all natural curd-NO titanium dioxide!).
Fresh Breads
Delivered fresh everyday; A&M, Terranova and Il Forno Bakery!
Meats
All fabrication done on premises; fresh sausage made from Hatfield shoulder butts, steaks; IBP, Ausralian Organic Growers, Wolf's Neck, Chairman's Reserve, Imperial Wagu,  roasts and chops; New Zealand baby lamb, Hatfield pork, Mosner veal,  seafood; Tiger shrimp, Copper river salmon, U.S.F. as well as local seasonal fresh!
Produce
Fresh produce, look for "Tony's"  farm fresh, organic produce available seasonally!
Lunch & Dinner specials
Hot and cold, lunch and dinner, sandwich and entree specials, everyday!
Cured Meats
The very best prosciutto de Parma; classico 18 months+, salumi and soppresata; Danielle, Colombus, Hormel, Indigo, mortadella; Beretta (Italian),  pancetta; Danielle, bresaola; Danielle.
Cheeses
"Rocca" parmigiano (3yrs aged, D.O.P.), Gran Cru D.O.P., Fiore De Sardegna, Fontina D.O.P., Gorgonzola D.O.P., Asiago Fresco D.O.P., Mascarpone (Italian), Genuine Pecorino Romano, Auricchio Provolone, Piave D.O.P., Manchego (6 mnths+), Prima Donna, Fontinella, Emmentaler swiss, Land-O-lakes cheeses, Alpine lace, Lubaucher munster.
Cold Cuts
We fabricate "our own"  fresh store roasted Turkey Breast, Roast Beef, Roast Pork and Brisket. We also carry Boar's Head Brand.
Dry Goods
Italian E.V. Olive Oils (Onesto, Oro de Puglia, Fratelli Barbera, Colavita), Balsamic Vinegars (Ca' de 'Este, Mazzetti, Colaguiri, Colavita, DiNigris),  Pastas (DeCecco, Gerardo Di Nola, La Nonna, Riscossa, Tommaselli, Fusco, Bello, Scotti, Misura, Mellin),  San Marzano peeled tomatoes D.O.P., Espresso coffees (Lavazza, Kimbo, Mauro),  Sparkling water (San Pellegrino, San Bennedetto, Lurisia). Many other fine goods from Sclafani, Collucio, Mancini, Musco, Pastene, Hoboken Eddie, Peter Lugar, Del Monico, Stubbs, College Inn, Knorr, Pomi, Lorina, Manhattan Special and A&S Bakery are available, as well as other seasonal specialty items!